We've released as of today our new Spring Business Lunch Deal with a slew of new options for you to choose from! This one is heavy on tomato and aubergine use, flavors that coincide well with the changing seasons.
今天出了我们新的春天的套餐。这次的美食用的西红柿和茄子比较多!欢迎大家来试试!
RMB78 lets you choose from 5 starters and 7 mains that can combine into 35 different meals to get you through the work days. No worries though, our regular menu is also available if you are feeling like other Moroccan goodies!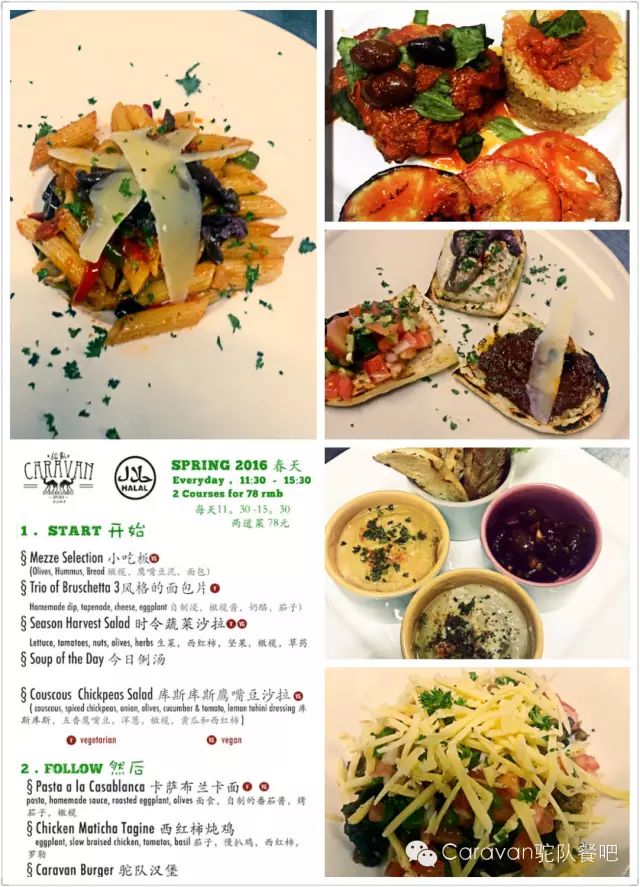 To Start 开始
§ Mezze Selection 小吃板
(Olives, Hummus, Bread 橄榄,鹰嘴豆泥,面包)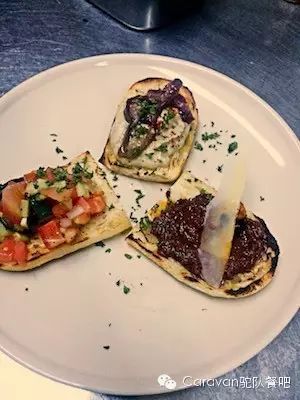 § Trio of Bruschetta 3风格的面包片
Homemade dip, tapenade, cheese, eggplant 自制浸,橄榄酱,奶酪,茄子)
§ Season Harvest Salad 时令蔬菜沙拉
Lettuce, tomatoes, nuts, olives, herbs 生菜,西红柿,坚果,橄榄,草药
§ Soup of the Day 今日例汤
§ Couscous  Chickpeas Salad 库斯库斯鹰嘴豆沙拉
( couscous, spiced chickpeas, onion, olives, cucumber & tomato, lemon tahini dressing 库斯库斯,五香鹰嘴豆,洋葱,橄榄,黄瓜和西红柿 )
Then Follow 然后
§ Pasta a la Casablanca 卡萨布兰卡面
pasta, homemade sauce, roasted eggplant, olives 面食,自制的番茄酱,烤茄子,橄榄
§ Chicken Maticha Tagine 西红柿炖鸡
slow braised chicken, tomatos, basil 茄子,慢扒鸡,西红柿,罗勒
§ Caravan Burger 驼队汉堡
§ Chicken Po'Boy 卡津风味鸡三明治
§ Kebob Platter  摩洛哥烤肉饭
beef and chicken kebob, rice, garlic & olive oil vegetables 牛肉和鸡肉kabob,米,大蒜和橄榄油的蔬菜
§ Beef Kebob Salad  烤肉沙拉
tenderloin beef, couscous, vegetables, garlic tahini sauce 里脊牛肉,库斯库斯,蔬菜,大蒜酱芝麻酱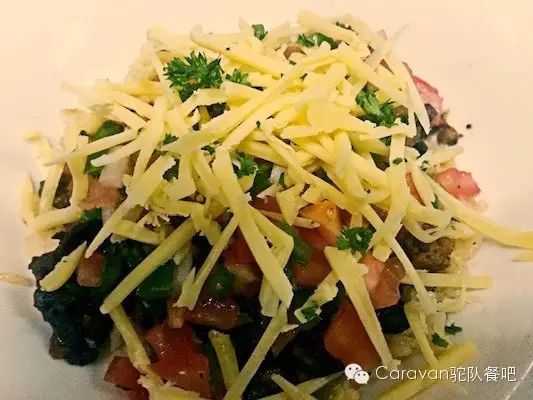 § Ras El Hanout Beef Burrito Bowl 摩洛哥卷饼碗
rice, beef, black beans, vegetables, cheddar cheese, moroccan spices 大米,牛肉,黑豆,蔬菜,芝士,摩洛哥香料
Also, don't forget our special brazilian thursdays and couscous fridays!
Everyday something new!
还有每个周四"巴西菜" 每个周五"couscous"